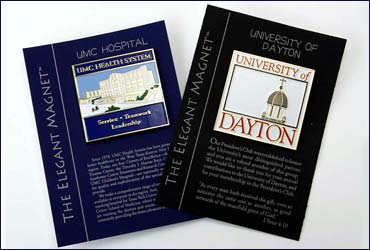 Promotional Fundraisers Magnets


Marbex Inc. creates unique and innovative ways for business and team leaders to show appreciation for the members of their organization. Whether you are looking for donor recognition awards or gifts for valued teammates, we have a variety of terrific options to choose from including our metal magnets. These are high-quality products that we render in metal and they come complete with four enameled colors.

Besides their elegant design, these magnets stand out thanks to their creative packaging. We mount all of our magnets on a vertical duplex card that contains a message, contact information, or anything else that you want to include. We then enclose every one of our magnets in a protective plastic sleeve. Once your members or donors receive their custom magnet they will be happy to know that these are highly durable products that stick to stainless steel.

When you place an order with us, expect excellent service, fast delivery, and an emphasis on your satisfaction. To learn more about custom made, promotional magnets or any of our other items, contact us today!