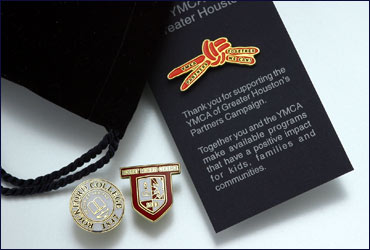 Lapel Pins Made of the Finest Cloisonné
Custom made lapel pins are the perfect gift idea for everything from graduations to weddings to anniversaries. And when your custom-made lapel pin is made of the finest cloisonné available, you truly can express to your loved one, employees or organization how important they are to you.
An ancient art enlisting the most tedious practice for decorating metal work, cloisonné allows for inlaying metal wires or piping with size-appropriate compartments. Properly assembled cloisonné requires very skilled handcrafting. And when it's made at the hand of experienced artist, the difference shines through.
In addition to the care and expertise that goes into the creation of each of our custom lapel pins, we aim to create beautiful packaging that catches the eye. Marbex will mount your custom lapel pins on a duplex card to further articulate the message you want to send your recipient. Additional packaging includes that of a black velvet bag, making for the perfect gift that anyone would be happy to receive.
The perfect handcrafted gift allows you to communicate your appreciation and how much someone really means to you. So the next time you are in need of a way to honor those who mean most to you, consider our custom lapel pins. Contact us for more information on our lapel pins and other custom-made items. Click here to shop online now!